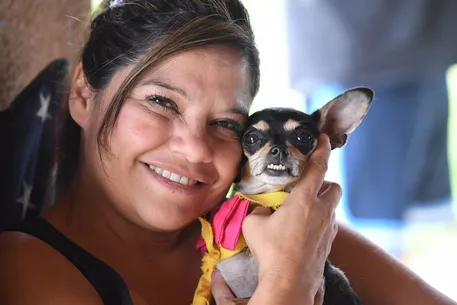 APPLICATION REVIEW AND ADOPTION PROCESS

Lap Dog Rescue of New Mexico (LDRNM) is a non-profit private organization of dedicated volunteers who rescue, rehabilitate, and re-home small companion dogs from shelters, owner surrenders, and from other bad situations. No individual is paid. Most of our fosters and volunteers work full time jobs and have family responsibilities in addition to their volunteer work for LDRNM.

The adoption process for any LDRNM dog begins with the interested party fully completing and submitting an adoption application. LDRNM will NOT accept applications for dogs that are intended to be gifted.

Adoption applications are TYPICALLY responded to within 48-72 hours of receipt. Exceptions are: there are many applications for a particular dog, or Foster may be ill or on travel. Again, please keep in mind we are an ALL VOLUNTEER ORGANIZATION so we appreciate your patience. There is NO obligation that the applicant must adopt the dog for whom they have applied. Please be sure to check your SPAM folder for messages and add us to your contact list

There is NO obligation by LDRNM to adopt that or any dog to the applicant. The receipt of an application for a dog is NOT an implied guarantee the applicant will be selected to adopt that dog.

Applications are NOT prioritized by time or date received.

All applications are screened and prioritized in order of those that appear to be the best fit. After screening, references may be requested and checked and home visits will be conducted for those applicants considered best for that dog. Not every applicant will have a home visit - only those who are considered to be in final contention.

Prior LDRNM adopters typically have priority over new applicants as they have already been pre-screened and approved to adopt one of our dogs.

Adoption decisions are a subjective process driven by the Foster who best knows the personality and needs of the dog and whose goal is to find the best home for the dog.

We cannot guarantee that any dog is 100% house trained when they transition to a new home. This transition time takes more than 24 - 48 hours. Although a dog may present as doggy door or house trained at the Foster's home, a transition to a new home is naturally scary and disruptive to the routine to which they have become accustomed with consistent training by the Foster. It takes time and some patience from the adopter to reinforce training begun by the Foster, time for the dog to adapt to its new environment, and time for the adopter to recognize the newly adopted dog's signals as to when they need to go outside. Our Adoption Agreement allows for a 30-day return and refund should the new dog not successfully transition to the adopter's expectations. For those who cannot commit to a reasonable 30 day transition period (unless the circumstances present a dangerous situation to the dog, adopter or family member), please reconsider your decision to adopt a dog.
LDRNM makes its best efforts to contact interested applicants about dogs' status in a reasonable period of time and relies heavily on social media and its website to provide updates on dogs' adoption status.
Adoption fees as of 01/01/2019 will be $195 for the majority of our dogs and $245 for puppies. Senior dogs are typically $95. Dogs requiring dentals or other specialized medical treatment are $300.
To complete a no obligation online Adoption Application, please click here: Adoption Application
Please note that only one application is required. You may request more than one dog by name on your application and may add dogs by name to your application at any time by notifying us through the "Contact Us" button on this website.